Industrial Design

Vatos Urban Tacos, is a Fusion Mexican restaurant with a reputation of being one of the best places to dine in Seoul, Korea. The interior design and construction of the new flagship store was the responsibility given to UNITless. With the fact that Vatos already being one of the most popular restaurants, the design for the new shop had to exceed the prior and live up to the people's expectations. Therefore to accomplish this goal, we prioritized uniqueness above all. Everything from the furniture to the façade was hand crafted and custom made.
퓨전 맥시칸 레스토랑 '바토스 어반 타코스'는 서울에서 꼭 가봐야 하는 맛집으로 선정되었을 정도로 유명한 식당이었습니다. 저희는 이러한 유명세를 뛰어 넘는 참신하고 독창적인 디자인을 통해 바토스의 새로운 플레그쉽 매장을 꾸미는데 주력했습니다.
Industrial Runway

The concept behind the project is the juxtaposition of warm and cold material with an industrial vibe. To make this apparent, UNITless simply designed the space where the concrete kitchen and the brick bar face each other. By doing so, the entry sequence became a type of a runway where the customers becomes the center of attention as they walk by. This engaging detail allowed the visitors to receive the passion of the kitchen and the friendliness of the bar every time they enter the dining hall.

이 프로젝트의 컨셉은 따뜻함과 차가움의 대치와 조화였습니다. 주방은 콘크리트와 스테인레스를 이용해 차가운 느낌으로 표현했고 바는 적벽돌과 부식시킨 철을 사용하여 따뜻한 느낌을 주었습니다. 레스토랑에 들어서면 주방과 바를 지나쳐 이 대조적인 느낌의 공간을 경험한 후 객장으로 들어감으로써 고객이 그 중앙에서 레스토랑을 전체적으로 경험 할 수 있도록 계획했습니다.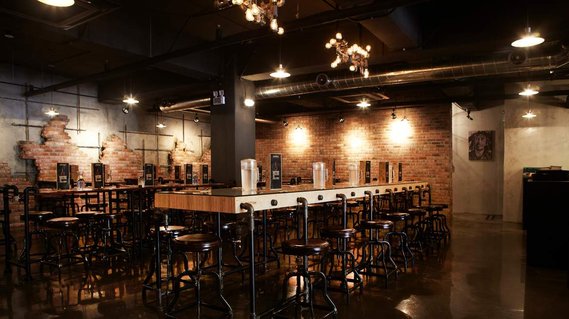 Pipe Furniture and Light

The furniture and the light at Vatos were all handcrafted by UNITless to make sure that the attention to the detail was of top importance. The centerpiece table was made from pipes weaving in and out of the sectional white birch plywood. To match the intricate pipe works of the centerpiece, the chandelier above was also made from the same material. Being DIY was important in making the restaurant feel like a warm welcoming atmosphere that the owners of Vatos wanted.

모든 바토스의 가구, 조명은 유닛레스의 디자인으로 주문제작 방식을 통해 만들었습니다. 테이블은 자작나무 합판과 흑색 강관을 이용해 만들었고, 그와 매칭되는 조명 또한 테이블과 같은 자재를 사용하여 모두 수제로 만들었습니다.
First Project

Vatos Itaewon was the first project that UNITless designed as a firm, and will always be a special place to the crew. The project began by chance, when the owners of the restauarant striked up a conversation with us while dining at the first Vatos start up. Initially the owners were fed up with having unstable tables, and commissioned us to build them a custom table. With the pipe table being everything that they wanted, it opened the door to entrusting UNITless with the flagship store's design. Thank you Kenny, Juweon, and Sid!
2012 Jul/Commercial/382.90㎡(116py)